Grand Master Seif –El-Nasr Hammouda 9th Dan, known as Stephen Hammouda.
Born in Egypt.
Moved to the UK in 1975, currently living in Surrey.
Hobbies include Horse Riding, Scuba Diving, Gardening, Aquatics, Ancient and modern Weapons training.
At the age of 5 years old, trained in local Fighting Systems at his family private estate This followed by training in Judo, Shotokan, as well as boxing, Greco-Roman Wrestling and Fencing.
After a 3 year break, resumed training in Shotokan again, trained in both Kick boxing and Thai Boxing. Achieved Black Belts and instructor status in Tae Kwon-Do, Choi Kwang-Do, Sul Ki Do, Kong Su Do & Mu Sa Do.
Grand Master Hammouda Studied various other South East Asian Martial Arts that helped in the engineering of Pil Sung Do, while some of these arts are little known to the Western world like the ancient Cambodian arts of Bokator and Khmer Boxing, which flourished during the early part of the 11th century and enabled the Cambodian Kingdom to defeat other kingdoms known today as Burma, Vietnam and Thailand.
Produced the youngest Male and Female black belts students in the UK with stunning power & technical excellence as seen on TV Thames news twice with Master R. Koo.
Trained with many Masters, such as, Park Jung Tae, Park Jong Soo, Rhee Ki Ha, Son Myung Son, Jack Hwang, Professor Remy Presas, R. Koo, M. Pereira, Kwang Jo Choi, Trevor Nicholls, M.Y. Kim, Woo Jin Jung, Han Sam Soo, Chung Kee Tae.
Released Pil Sung Do concepts of Hwa Rang and Pil Sung in April 1990.
Hwa Rang Syllabus, beginners to 1st Dan,
Pil Sung syllabus, 1st Dan to 4th Dan Inclusive,
Released Infinity concept in April 1997, Infinity syllabus covering Mastership levels from 5th Dan and above which completes the art of Pil Sung Do.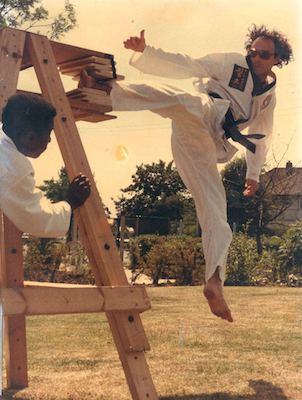 Formulated the structure of U.K.T.F.
Former Secretary, Treasurer G.L.T.A.
Founder and Former President of United Kingdom Pil Sung Do Federation.
Former Chairman United Kingdom Kong Su Do Council.
Former Executive committee member United Kingdom Sul Ki Do Federation.
Former Chief Instructor, Examiner United Kingdom Pil Sung Association
P.S.D. Martial Art was completed with Infiniti, the final chapter in Pil Sung Do covering Masters level from 5th to 8th Dan syllabus
Promoted by U.K.P.F. to 9th Dan in April 1997, after Pil Sung Do has been completed. The concept is pure genius, light years ahead from anything that is ever been known to have existed in Martial Arts history.
Grand Master Hammouda is known among his peers as both, 'The Human Weapon' and as a 'Technical Encyclopaedia' in Martial Arts.
Origins & Engineering of;
Pil Sung Do.
Hwa Rang-Pil Sung- Infiniti.
After a life time of studying, practicing and teaching Martial Arts, I decided to design a Martial Art that will transform all negative aspects that I may have encountered during my periods of studying and teaching, as I always helped to develop and produce only the best black belts students in any style that I have taught. Pil Sung Do is engineered on an extremely stable syllabus, deep vision, brutal honesty and practicality.
Pil Sung Do's purpose is to achieve adaptability for modern living, excellence and technical evolution in self defence for women, children and men. Total fitness and health, fun and enjoyable to practice. And most of easy to learn.
These are some of the necessary requirements for a successful modern martial art.
Beyond these goals, it can be your life long companion, serving you well, helping you to realise your dreams and true potential in life. To be the best that you can be.
Pil Sung Do consists of three chapters;
Hwa rang; White belt to Black belt (Bodan).
Pil Sung; 1st to 4th Dan inclusive.
Infiniti; Mastership levels, 5th Degree & above.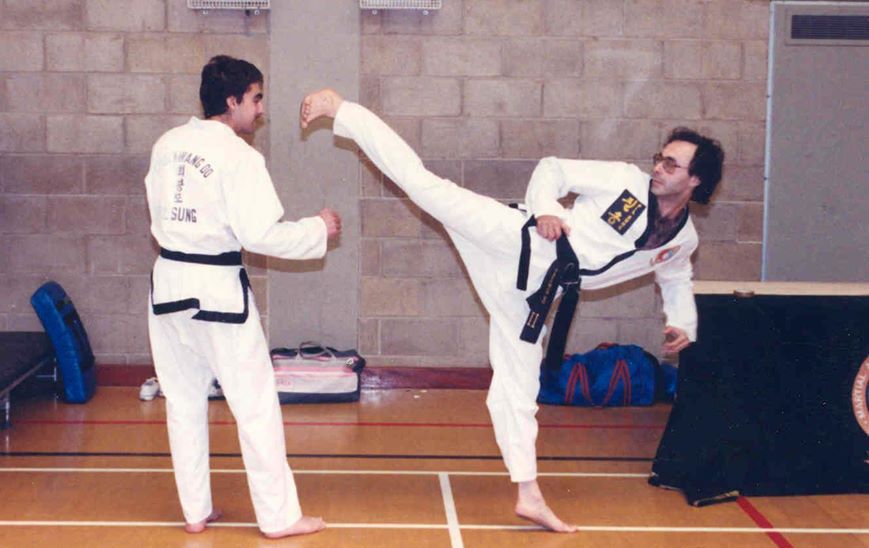 Hwa Rang chapter; is named in honour of the Korean teen noble warrior group, they helped in the unification of the three ancient kingdoms of Korea. Hwa Rang is celebrated today in many Korean Martial Arts. This chapter incorporates all basic kicking techniques which are adapted from the kicking art of Soo Bak Gi which was refined by Hwa Rang warriors, the art appeared in Korea during the Silla dynasty & flourished in the Yi dynasty during the middle of the 6th century AD.
All hand techniques in this chapter as punching, striking and thrusting are based on the biomechanical principals of Khmer Boxing, which is the most powerful method for a successful delivery of a hand attack known to man.
Khmer Boxing, is the oldest sport in ancient Cambodia and was also named blood sport (no ring, referee or rules) hands & fingers were rapped in thin cloth rolled in the shape of a rope, these fights resulted in a very high percentage of death. Khmer Boxing is the father of modern Pradal Serey (free fighting) practiced in Cambodia up to current time, Pradal Sesrey is the equivalent to modern day Thai boxing, however Khmer Boxing has existed at least 350 years before the ancient forms of Thai Boxing (Mauy Boram) & Mae Mai Mauy Thai. (15th Century AD.) Which Modern Thai Boxing has evolved from in 1929 by King Rama VII.
Khmer Boxing originated from the Cambodian military art of Bokatar. This was flourishing in the middle of 11th century AD.
Pil Sung chapter; (1st, 2nd, 3rd &4th Dan) takes practioners on a journey of self discovery, as they find out about the human physical potential and how close they can get to its boundaries.
Pil Sung 1& 2 Patterns for black belts 1st & 2nd Dan. Patterns cater for multiple kicking in different directions and more advanced Khmer Boxing hand combinations plus basic single jumping kicking techniques.
Pil Sung 3 & 4 Patterns for black belts 3rd & 4th Dan, cater for battle field combats utilising the deadliest techniques from Bokatar, Flying double elbows strikes and thrusts, flying double knees strikes plus flying take down mounting techniques (mounting an opponent) via different methods including front and rear mounting and flying scissors added to multiple flying hand and foot techniques with potential for up to five aerial targets in one jump.
In English the translation for Pil Sung means; Certain Victory.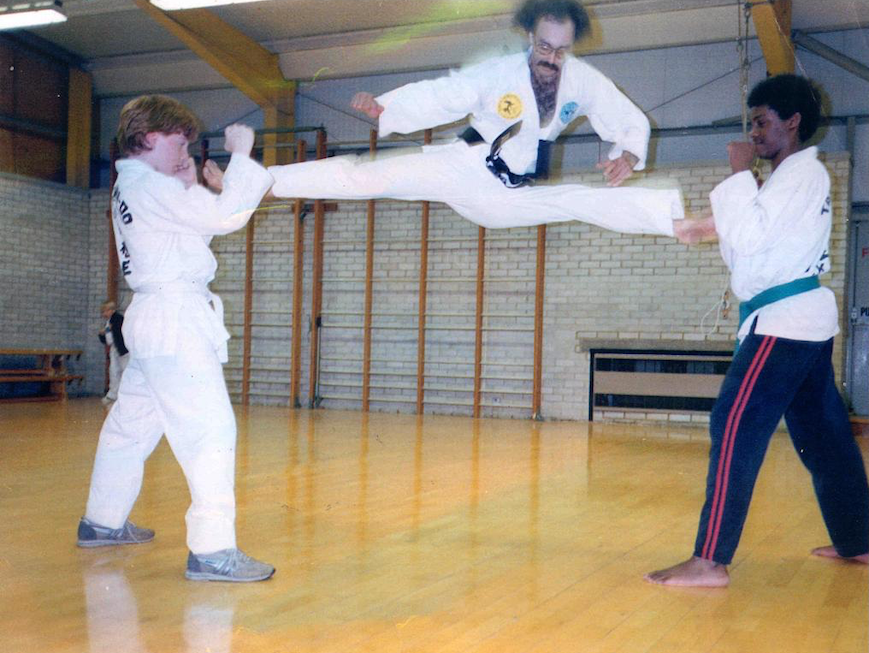 Infiniti, the final chapter in Pil Sung Do;
While Infiniti concept is published, its practices are still highly guarded secrets,
Its concept deals with absorbing , storing and manipulation of the body flow energy known as "life force", the control of such body flow energy in its self can be used for extreme contrasting purposes, including killing or healing and many other applications in between. Only Masters would have the honour and privilege to learn and experience this concept, All Master in Pil Sung Do must be prepared for this in advance during his or her final year as a 4th Dan under supervision of a Senior Master.
However Infiniti is designed primarily to ensure the production of upright Masters Capable and worthy of the leadership to the most advanced Martial Art in the world. Such as Grandmaster Nigel Glossop currently 8th Dan, President of Pil Sung Do Martial Arts International.
Finally one day I would like to welcome you personally as a Master to your first training session in Infiniti.
Stephen Hammouda 9th Dan
Grand Master, Founder of Pil Sung Do.
In Loving Memory 9th April 1953 – 11th December 2021
Areas We Serve:
Camberley
Frimley
Farnborough
Aldershot
Yateley
Blackwater
Lightwater